The Electromagnetic Spectrum
An electromagnetic wave is a wave where both electric and magnetic fields oscillate at right angles to one another. These waves are classified by wavelength, and grouped together in a continuous spectrum: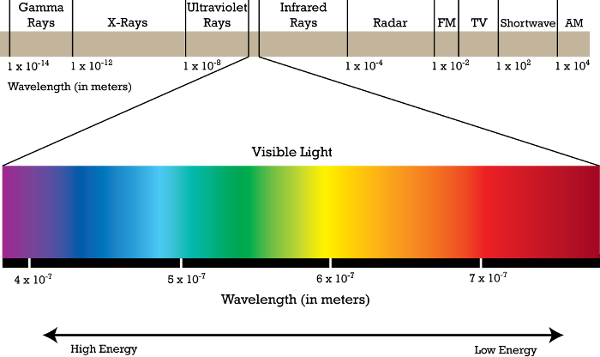 Properties of electromagnetic waves
They can travel through a vacuum - they don't need a medium to travel through.
They are always transverse.
They can all reflect, refract and diffract.
They can all be plane polarised.
Wavelengths
You need to know these for the exam!
| | |
| --- | --- |
| Wave | Wavelengths (m) |
| Radio | 106 - 10-1 |
| Microwave | 10-1 - 10-3 |
| Infrared | 10-3 - 7x10-7 |
| Visible light | 7x10-7 - 4x10-7 |
| Ultraviolet | 4x10-7 - 10-8 |
| X-rays | 10-8 - 10-13 |
| Gamma rays | 10-10 - 10-16 |